Lantmanen Cerealia is known in the labor market of Ukraine as a company capable of attracting and developing the best personnel, maintaining a high standard of management.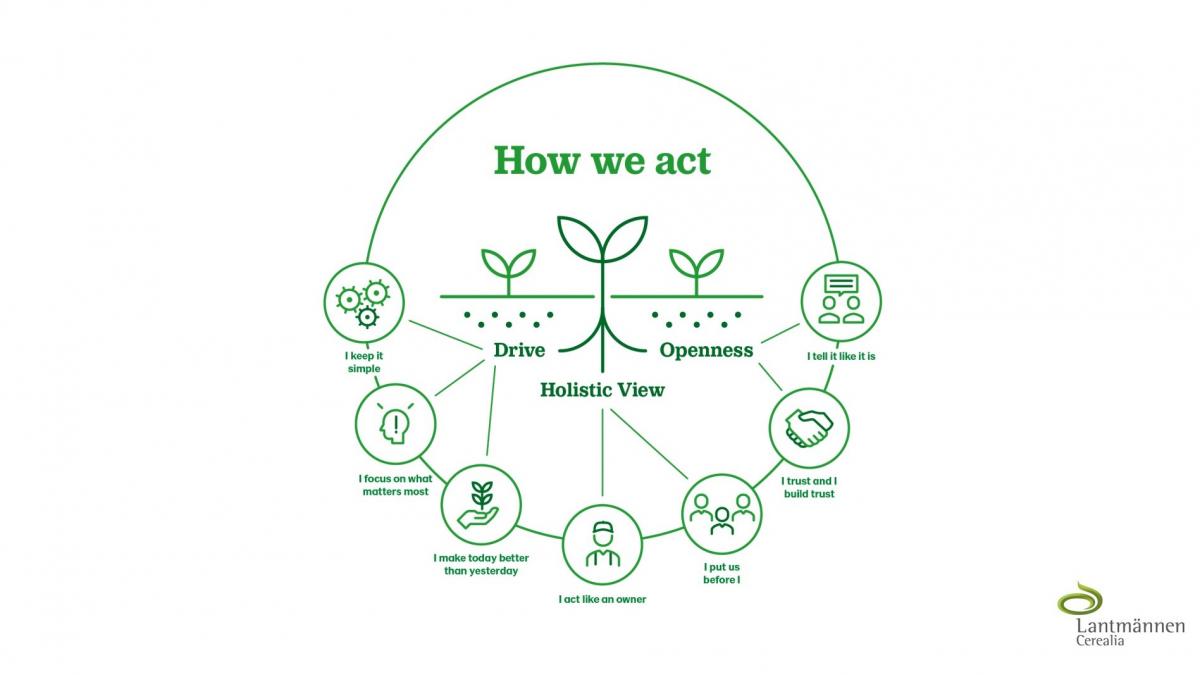 In 2016, Lantmannen Cerealia entered the annual rating of the best employers of Ukraine. We took 8th place in the nomination "Dream Team. Global ambitions".
Lots of visitors who participated in the management and Kaizen tours to our company noted the excellent organization of production, our leadership potential, positive energy, and love in the office employees to the company and our product.
At the national competition "HR-Brand 2016", we presented a project and were awarded the "Breakthrough of the Year" honorary award.
Employees are one of the core values of Lantmannen Cerealia. Our team is formed by highly qualified specialists, and each is a true professional in his business.
We are interested in attracting talented, active, and energetic people to our team and we believe everyone is an important member of the like-minded team.

Reasons to work with us:
We make the world better.

Lantmannen products are in demand and are sold in 45 countries, in every fourth country in the world. We think, act, and operate globally, making better the world we live in.

We give a sense of purpose.

To be a part of something important and huge, to participate in creating a quality product that you can be proud of is very pleasant. All employees know the main goal of our company, support our mission and values.

Тeam work.

"Lantmannen Cerealia " is a close-knit team of professionals. We managed to create not just a comfortable, friendly atmosphere - every day we are working to improve communications and become better. Getting into such an atmosphere, everyone understands that constant professional and personal growth is one of the key values of the company, all conditions are created here. Experienced colleagues are always ready to help more young specialists and pass on their knowledge.

We love and respect our employees.

Every day in the company passes brightly and is not similar to the previous one. We found the best balance of the working day, combining the solution of business tasks with a variety of corporate programs and activities. We organize a lot of activities: workshops, training, and education, English speaking club, training in other enterprises of the company for our talents. Our benefits package includes a program of medical insurance and other forms of support for all employees.

Recognition of merit.

We greatly appreciate the contribution and involvement of everyone in achieving common goals. That is why our company has a system for recognizing the merits of employees. Your achievements will not be left without attention.

Worthy wages.

Each year, the company revised salaries to ensure competitive remuneration, there are annual and monthly bonuses as well.

We protect the environment.

The company complied with the comprehensive environmental program "Green Office", which aims to reduce the burden on the environment, protect natural resources, and to raise awareness of employees on environmentally sustainable consumption.

Continuous development.

Working with us, you have the opportunity to develop together with a large international company. It is important for us not to stop there and always look for new ways of development and improvement. We provide employees with ample opportunities for training, live, and interesting communication in conferences, competitions, sports, and festive events.

Continuous improvement.

We know that every employee is an integral part of our overall success, that's why we initiated the "Chip" program, within which we constantly improve something on the initiative of our employees. We encourage development, creativity, and energy.